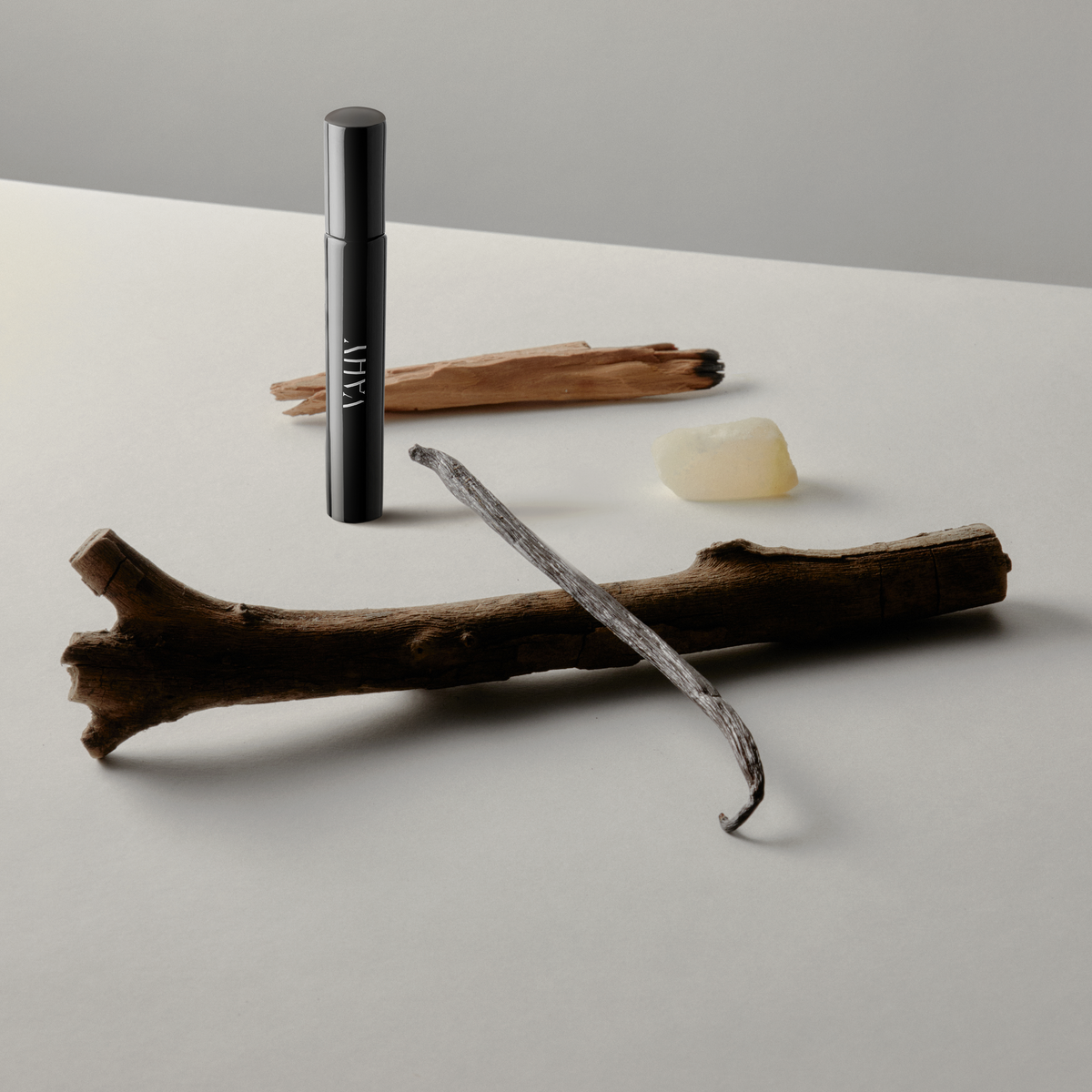 Smoky woods with the rich, luxurious warmth of amber and vanilla.  
Scent Type

Amber

Wood
Vanilla
Description
The new Travel Spray size (10ml) is perfect for topping up your scent on the go and scent layering.
Ember Haze is inspired by fireside evenings in cosy log cabins and alpine resorts. This scent fuses smoky woods with the rich, luxurious warmth of amber and vanilla. 
Notes
Top Cardamom, Almond Bitter, Clove     
Heart   Ambrette Seed Abs (Amber), Patchouli, Sandalwood                      
Base   Guaiac wood, Vanilla, Vetiver (Madagascar), Glowing Embers   
Our natural perfumes are formulated without synthetic fragrance, denatured alcohol, animal derived products, phthalates, parabens, SLS, SLES, EDTA, ALS, PEGs, polycyclic musks, MEA, DEA, TEA, formaldehyde, petrochemicals and oxybenzone, amongst many other ingredients of concern.
Product Details
100% Natural Perfume
10ML | 0.34 FL OZ
Benefits
Vegan

Cruelty-free
Natural
No-nasties
Usage
Váhy scents are au naturel so please give them time after application to develop their unique and delicious scent. Use like a normal human being would: topical only. Use on clean, dry skin that is well moisturised for extra staying power. Gently spray on pulse points and avoid rubbing wrists together. Ember Haze Perfume is a unisex, luxury perfume from Váhy. It is made with natural ingredients and has a warm, woodsy scent with notes of cedarwood, patchouli, and sandalwood. The scent is light and delicate, yet long lasting and can be worn both day and night. 
Store away from direct sunlight and heat to protect the precious ingredients.
Awards

Ingredients
Ethanol (Organic Sugarcane Alcohol); Aldehyde C18 (Sunflower Oil); Ambrein (Gum Resin); Ambrette Seed Absolute; Apricot Seed Oil; Benzyl Acetate (Chinese Cinnamon) ; Bergamot Oil; Cardamom Oil; Cedarwood Oil; Cedrol (Cedar Oil); Cinnamon Bark Oil; Coumarin (Cassia Oil); Cypriol Oil; Guaiac Wood Oil; Maltol (Malt); Mandarin Oil; Orange Flower Extract; Patchouli Oil; Sandalwood Oil; Clove Oil; Triethyl Citrate (Sugar Cane); Vanillin; Vetiver Oil
NO NASTIES
No denatured alcohol
No mineral oil
No petrolatum/paraffin wax
No animal by-products
No animal testing
No silicones
No parabens
No propylene glycol
No ethanolamines
No PEG
No SLES
No EDTA
No ALS
No phthalates
No synthetics
No retinol
No nitro musks
No polycyclic musks