Muse Series: Kara Breadmore, Founder & Creative Director
Kara is the founder and creative visionary behind the renowned brand Kallure Jewellery. Kara's pieces are not only an elegant composition of timeless design with modern elements but they are also works of wearable art.
We caught up with the extraordinary craftswomen, artist, designer and entrepreneur to chat about Kallure Jewellery, her charitable endeavours and her memories which are most tied to scent.
I love wearing a scent that transports me to sipping on a negroni while relaxing by a fire.
– Kara Breadmore
Kallure is one of the most beautiful, innovative jewellery brands we've seen. How do you go about creating your pieces and what inspires you?
For me, the most important stage in the creation of our jewellery is getting to know our client it is the absolutely tapestry and essence of every piece we create. Knowing our client allows us to understand who they are, why they're here and what story they are trying to tell.
Definitely my main source of inspiration would have to be old world architecture. I love diving into different eras and extracting out unique shape combinations and design elements and injecting them back into my designs.   
.
What is the next big trend in jewellery in your view?
We don't tend to follow trends, we like to forge our own path. We're crafting jewellery for people who want to wear their story, it's a reflection of their personal style and spirit, pieces that are intertwined with their identity. With that, these are modern heirlooms, their form is designed to transcend time, to remain relevant for a lifetime and for generations to come.
We're hoping the more recent shift of women deciding to purchase fine jewellery as an act of self-love, sticks as a permanent movement. Nothing gives us greater joy than women owning their worth and investing in a daily reminder of it. Jewellery is our talisman, a reflection of who we are and what we love, it's rooted in meaning and imbued with the stories of our life. Wearing something on your body to remind yourself of your story, of your strength and value, is so empowering.   
 What collection or piece that you've been involved with are you most proud of?
I'm a huge believer in paying it forward. I want to use my business as a way to contribute to the world around me and to create impact, within my community and beyond within the global community. Kallure has worked with a variety of foundations and charities that we believe are making real change and impact, specifically those that focus on empowering at-risk women and families. Designing and donating a Kallure piece to raise funds for The Hunger Project is one of the dearest to my heart. Their mission is to end hunger and poverty for people living in rural communities across the world. By unleashing their creativity and leadership they empower communities to break the cycle themselves. 
What nostalgic memory do you have that is most tied to scent?
For me, one of the most nostalgic smells would have to be freshly cut grass. It instantly transports me back to lazy Sundays in summer at home, my dad pushing the mower around the lawn. It makes me think of being outdoors and all the happiness that I associate with being a young child. As soon as I smell a lawn mower and freshly cut grass that's where I get transported to. It's remarkable that scent can do that, it can absolutely take you back to another time.
.
What type of personal fragrance do you like to wear?
When it comes to fragrance I'm always drawn to smoky, woody, leather scents with undertones of citrus or spice. I love wearing a scent that transports me to sipping on a negroni while relaxing by a fire. Vahy's Tarkine is one of my favourites to wear and definitely takes me there.
What does jewellery mean to you?
To me jewellery is an opportunity to share, to love, heal, acknowledge and celebrate. It's everyday adornment that houses our feelings and memories. It is armour that empowers us. It's how we tell the world who we are. It is artistry imbued with our stories. They live within the piece, each wearer contributing their own experiences, the past, present and future intertwining, as it is worn through a lifetime and passed onto future generations. Ultimately, jewellery connects us, to each other and to our past and future. Much like scent, wearing jewellery and sharing its stories, our stories, unlocks the memories it houses in such a visceral way, it is transportive.  
Learn more about Kara and Kallure here.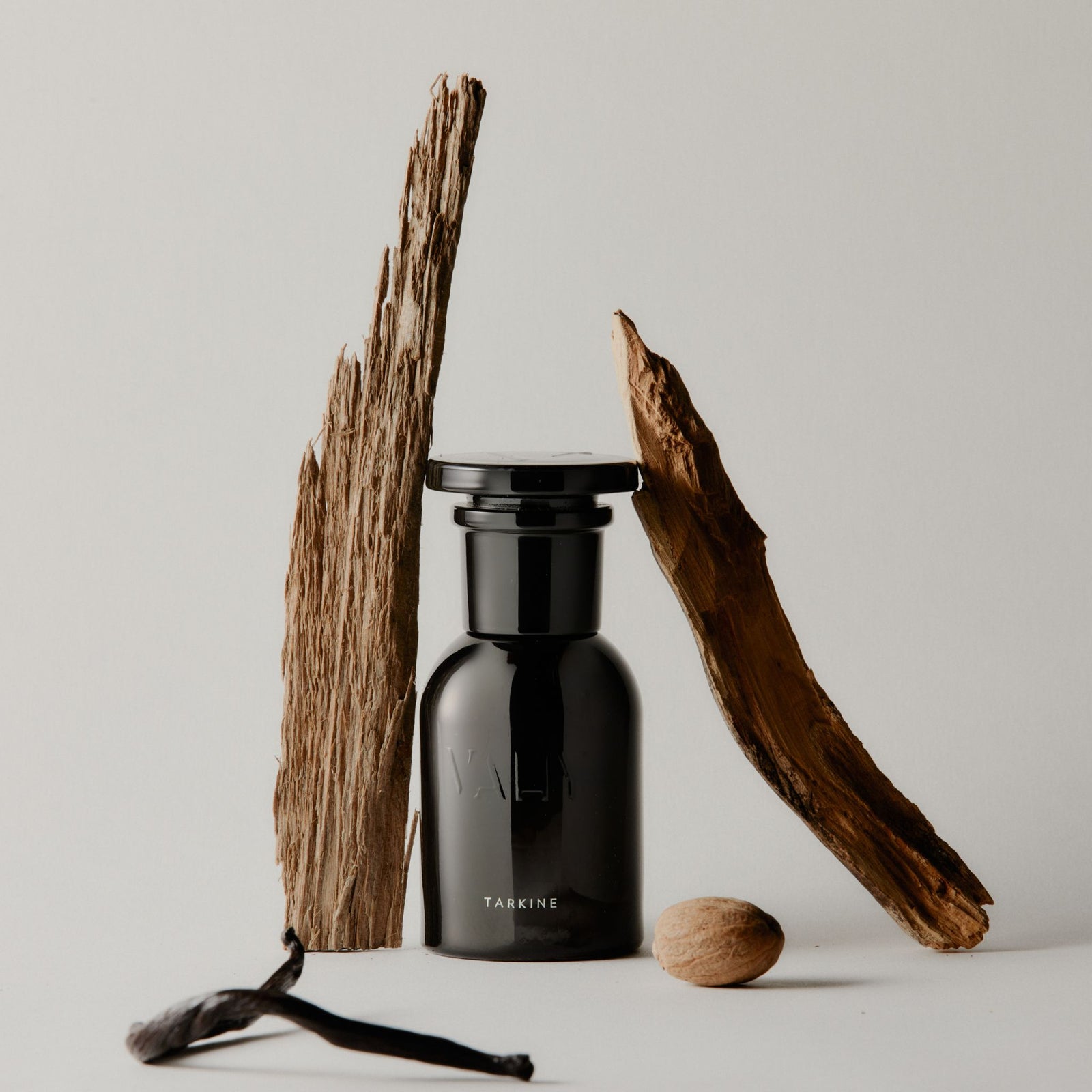 Like similar fragrance styles to Kara?  
Try Tarkine for a beautiful symphony of woods.